A photograph taken in 1910 shows the building in use as The Shakespeare Temperance Hotel and since then it has had several uses and owners.
The building was also known as 'Angelo Terrace' because of a statue that once stood on a ledge above the front main entrance. Though not certain, the statue, which disappeared in the 1950's was believed to be of the Italian artist Michelangelo
If you know where it might be, please contact me.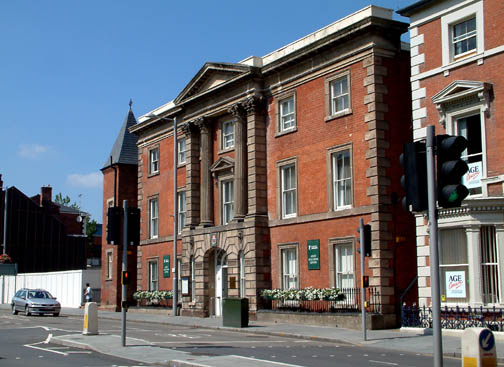 The Heritage Gateway site lists this fine building as a 'Town House' but does not say for whom it was built.
It gives a build date of c1850 with modifications carried out c 1880. To it's left is an odd little building with a tower. I had thought that this was a separate entity, but apparently it is an extension to the house.
Whoever the original owners were, they must have been very wealthy. Please contact me if you are able to shed more light on this.