May 2013 - Another sixteen months have passed since my last visit to Jubilee Campus to record this phase of development. In that short period all the buildings have now been completed, including the landscaping of the surrounding land and all appear to be occupied and in use. This phase of development comprises the following buildings and it is good to see that on most of them, the skills and expertise of local architects have been utilized. They make up another fine collection of individual modern buildings to complement those on previous phases of development on this site:
_
SCROLL DOWN TO SELECT THEN CLICK ON THUMBNAIL TO VIEW ENLARGED IMAGE
* The Geospatial Science Building - This building was designed by the Nottingham firm Maber Architects and built by main contractor, Clegg Construction. Whilst not quite as radical as the International and Amenities buildings that face it across Triumph Road, this is a fine very well proportioned modern design well up to the high standard that Maber are known for. Considering it's position, it makes use of cladding colours that match those used on the other two buildings, but in a more restrained way that gives it its own individuality.




NB01359
NB01360
NB01361
NB01362




NB01363
NB01364
NB01365
NB01518

NB01519
* The Sports Hall - This very much more conventional and functional building (Externally at least), at the north end of Triumph Road.. It was designed by another Nottingham firm, Franklin Ellis Architects and built by main contractor Mowlem PLC. It is clad in wood that matches that used on The Exchange building and others on the original campus across the road. Alongside this building is a new Starbucks coffee shop, but I don't know if the same firm of architects and builders were involved with it.




NB01366
NB01520
NB01521
NB01522
* The Energy Technologies Building - This is another interesting design by Maber Architects who have again teamed up with Clegg Construction as the main contractor. From the road during construction it was difficult to relate the artists impression to what was visible and now that the building is finished, it is clear why that was so - It appears (At least to me), to have been built to a slightly different plan. Some of the cladding is a most unusual colour.




NB01367
NB01368
NB01369
NB01370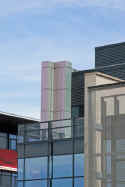 NB01523
NB01524
NB01525
NB01526
* The Mental Health Building - Of all the buildings in this phase of development, this one stands out and grabs the attention. This is another unique design and like the Geospatial Building it uses bright cladding of similar colours to those used on the International and Amenities buildings on the other side of Triumph Road. This building was designed by Benoy Architects who have offices in Newark, and the main contractor was G. F. Tomlinson (Building) Limited. To the right of the entrance stands an Italian marble sculpture by Ekkehard Altenburger named 'House for a Gordian Knot'. It is intended to remind visitors to 'think outside the box'.




NB01371
NB01372
NB01373
NB01374




NB01527
NB01528
NB01529
NB01530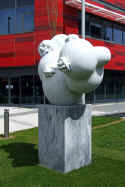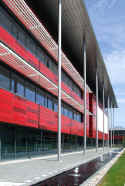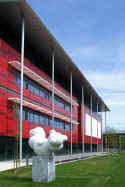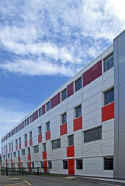 NB01531
NB01532
NB01533
NB01534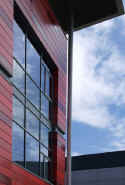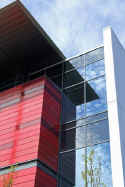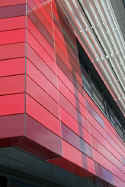 NB01535
NB01536
NB01537
NB01538
* The Aerospace Technology Building - This striking building was designed by the old firm of William Saunders Architects who have their head office in Newark and the main contractor was Baggaley Construction. This building is located to the rear of the others with its back to Triumph Road and front entrance facing the site perimeter. As a result I think it looks a little cramped on it's plot which does not do the building full justice. It's a great pity that this fine building could not have been located with it's entrance to the road.


NB01375
NB01376
NB01377
NB01378



NB01539
NB01540
NB01541
NB01542




NB015443
NB01544
NB01545
NB01546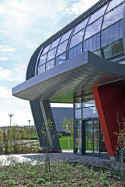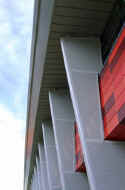 NB015447
NB01548
NB01549
NB01550
* The Si Yuan Centre - School of Contemporary Chinese Studies - This building is not part of the Triumph Road east side development but sits on the west side at the lakeside. It was however completed within the same timeframe as the others and for that reason it is included here.
The building was designed by the national firm of architects Lewis and Hickey who also have a Nottingham office. The main contractor on this building was GF Tomlinson Building Limited. The building complements the others along the waterside and also has its own new water feature that gives the front entrance just a hint of Chinese influence.



NB01551
NB01552
NB01553
NB01554



NB01555
NB01556
NB01557
NB01558
-
* A few more general views along Triumph Road of these new developments -



NB01560
NB01561
NB01562
NB01563
-
* The Romax Technology Centre - This building has completely sprung up since my last visit in May 2013 and is due to be officially opened in two days time on the 18th June 2014. It is another designed by the firm of William Saunders Architects who have their head office in Newark and uses materials and a colour scheme that complement those of its near neighbours. The main contractor was GF Tomlinson Building Limited. The building is being leased to Romax as their new Head Office by Nottingham University. Romax is a world leader in software design used to test and develop transmission systems.
-



NB01758
NB01759
NB01760
NB01761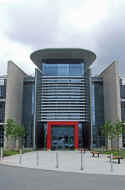 NB01762
NB01763
NB01764
NB01765
-
SCROLL UP TO SELECT THEN CLICK ON THUMBNAIL TO VIEW ENLARGED IMAGE
A
-
-
-
-
-
a