The Prince of Wales Brewery
Murphy & Son Ltd.
Alpine Street, Basford, Nottingham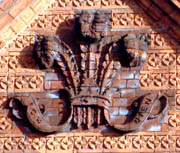 This impressive building was originally built c 1891 / 92 for brewers William Henry Hutchinson & Son and in 1916 became part of Home Brewery. In 1921 it was sold to Murphy & Son who are still in business there to this day manufacturing and supplying aids to the brewing industry. The building was designed by architect William Bradford of Carlton Chambers, Regent Street, London and built by Dennett & Ingle of Nottingham.
© Ray Teece 29-11-2006
NB00266 & NB00266a (Motif)