It's Open !. After almost four years of construction work and a spend of £19.39M the Nottingham Contemporary is finally finished and open to the public. Originally The Centre for Modern Art, it then become known as CCAN - 'Centre for Contemporary Art , Nottingham', but now the preferred title is just 'Nottingham Contemporary', and it's aim is to become a regional centre of international standing for the display of visual and live contemporary art. The architects for this development are the London firm of Caruso St. John Architects and building works were undertaken by SOL Construction Limited of Colwick, Nottingham. The gallery opened over the weekend of 14th / 15th November with exhibitions of the works of David Hockney and Frances Stark.
----------'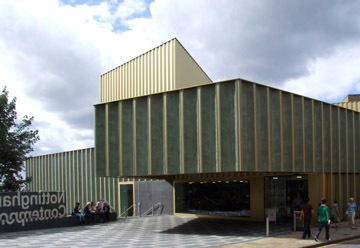 CLICK ABOVE TO VIEW FINISHED GALLERY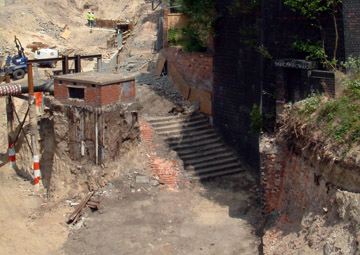 CLICK ABOVE TO VIEW CONSTRUCTION WORKS
The location of this gallery on the fringe of the historic Lace Market area provoked considerable controversy and my own strong views against it have been well documented in the local press and on this site. Whilst these remain unchanged, I have previously paid tribute to the feat civil engineering that went into the ground works of this difficult site. Now that the building is complete I will also concede that from certain angles (Setting aside the inappropriate location), this very modern building does have certain appealing architectural qualities, though these are by no means universal and totally absent from the most important elevations as seen from the top of Middle Pavement.

My first photographs of this development date from the 29th June 2006 and provide a useful record of its progress highlighting the very difficult site conditions.