Post Script:
I visited the Embankment on 30th November 2011 to find that these toilets have now been closed to the public. They have been replaced by just a single automatic 'Super Loo' to serve both men & women. (See later picture).
I think we can expect some very long queues on hot summer afternoons when everyone turns out for a stroll along the river!
21st March 2017 - The Nottingham Post reported that this building is now Listed Grade II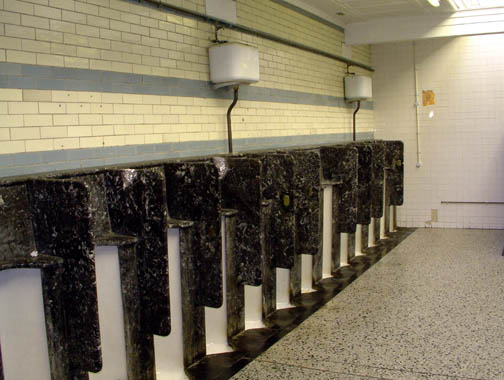 I don't make a habit of taking photographs inside gents toilets, but whilst recently having need to use this one it occurred to me that it is probably the last of it's era in the City and worth recording.
There were once several like this with beautiful black marble stalls, and 40 years ago, with the help of a resident attendant in each they would have sparkled with the the copper and brass pipe-work all highly polished.
This one was built in 1901 by the City Engineer Arthur Brown